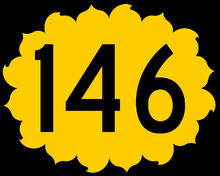 146 (one hundred six) is the number following 145 and preceding 147.
Properties
146 is the 6th octahedral number,[1] where 6 is the 2nd octahedral number.
The sum of its digits is the prime 11.
146 in base 8 is a repdigit (2228).
Its prime factorization is 2 × 73, so it is an even composite number and a semiprime number.
In radioengineering
In some countries, such as Germany, the 2-meter amateur band ends at 146 MHz.
In science
There are exactly 146 primordial nuclides without energetically allowed alpha or beta (including double beta and electron capture) decay modes.
Sources