33 (thirty-three) is a positive integer following 32 and preceding 34. Its ordinal form is written "thirty-third" or "33rd".
Properties
33 is an odd composite number.
33 is a repdigit number.
Inspired by the Numberphile video,[1] Andrew Booker found the first known solution for the equation x3 + y3 + z3 = 33 for integers x, y, z.[2] The solution is 88661289752875283 + (−8778405442862239)3 + (−2736111468807040)3 = 33.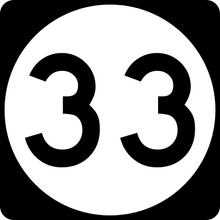 In googology
In Greek-based number-naming systems, 33 is associated with prefix "tritriaconta-", and with prefix "tretriginti-" in Latin systems.
See also
Sources