Jurassic World: Dominion Dominates Fandom Wikis - The Loop
Play Sound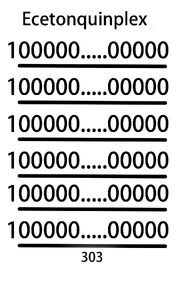 Ecetonquintiplex is equal to E303#6 in Hyper-E notation.[1] The term was coined by Sbiis Saibian. This number belongs to the guppy regiment.
It is equal to one followed by an ecetonquadriplex zeroes. It is 1010101010303+1 digits long.
Writing down the full decimal expansion would take 1010101010303-6 books of 400 pages each, with 2,500 digits on each page (except for the first, which would have 2,501).
-illion names
Using Aarex Tiaokhiao's -illion generalization of Nirvana's -illions, this number is approximately:[2]
gafa'hapa'neg'hecatontakisyn-gafa'hapa'neg'enenecontaennakisyn-gafa'hapa'neg'enenecontaoctakisyn-gafa'hapa'neg'enenecontaheptakillion
Approximations
Sources
See also