We're Getting Mutants in the MCU - The Loop
Play Sound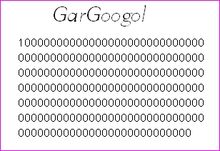 "Googool" redirects here. It is not to be confused with googol.
Gargoogol is equal to googol2 = (10100)2 = 10200.
It is also called one hundred quinsexagintillion in the short scale. It is 201 digits long.
Gargoogol is also known as "one hundred quinsexagintillion" according to Landon Curt Noll's The English name of a number.
This number can also be called fzhundred using the fz- prefix, since it is equal to 100100.[1][2][3]
This number is also called guppychime by Sbiis Saibian,[4] googool by André Joyce,[5] and toohol, 200-noogol, or centesimal-googol by Aarex Tiaokhiao.[6]
Username5243 calls this number gooducol, and it's equal to 10[1]200 in Username5243's Array Notation.[7]
SuperJedi224 calls this number centengol.[8] He also calls it cyplec, using André Joyce's naming system.
CompactStar gave the name emptol for this number, and it's equal to 100[] in Ampersand Notation.[9]
Etymology
The name gargoogol comes from combining the gar- prefix with a googol.
The name emptol comes from the word "empty", referring to the definition of the number in Ampersand Notation.
Approximations in other notations
Sources
See also