We're Getting Mutants in the MCU - The Loop
Play Sound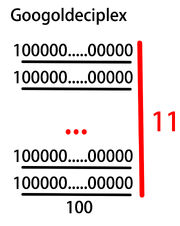 The googoldeciplex (also known as googoldekaplex or googolplexplexplexplexplexplexplexplexplexplex) is equal to E100#11 = EEEEEEEEEEE100 in Hyper-E notation.[1]
It is also equal to 1010101010101010101010100, or a 1 followed by a googolnoniplex (googolplexplexplexplexplexplexplexplexplex) zeroes. It is 10101010101010101010100+1 digits long.
Writing down the full decimal expansion would take 10101010101010101010100-6 books of 400 pages each, with 2,500 digits on each page (except for the first, which would have 2,501).
Etymology
The name of this number is based on SI prefix "deci-" and the number "googolplex".
Approximations in other notations
Sources
See also