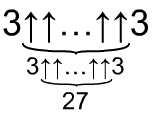 Primitolplex is equal to s(3,3,2,2) in strong array notation.[1] It can be represented in chained arrow notation as \(3\rightarrow3\rightarrow3\rightarrow2\). In up arrow notation it is equal to \(3\uparrow\uparrow\cdots\uparrow\uparrow3\) with primitol arrows.
This number is also equal to s(3,2,1,3).
Etymology
The name of this number is based on the suffix "-plex" and the number "primitol".
Approximations
Sources
See also